By Leading research fellow Oleksandra Betliy and Senior Research Fellow of Institute for Economic Research and Policy Consalting Vitaliy Kravchuk for 4Libertuy.ua.
Ukraine has introduced numerous reforms between 2014-2019, which support macro-financial sustainability of the country. As a result, even during COVID-19, Ukraine went stronger with debt-to-GDP ratio at about 50%, sound banking system, improved corporate governance and higher openness and transparency. This helped Ukraine to remain resilient since the beginning of full-scale invasion by Russia, which started on February 24 after 8 years of Russia's war against Ukraine.
However, temporary occupation of Ukrainian territories by Russia, forced internal and external migration, damaged by Russian missiles and bombs buildings and infrastructure resulted in huge damage of economy. Ukraine's economy is expected to drop by about 32.5% in 2022 due to the war. Many challenges remain for the future and the key one relates to war risks.
In 2022, Ukraine's economy suffered its highest-ever losses due to Russia's full-scale invasion, which began on February 24. However, the country showed its resilience. All parts of the Ukrainian state remained fully functional, reducing uncertainty. The resilience of government operations in Ukraine has surprised international partners. Prompt negotiations with IFIs and bilateral partners helped to receive emergency financing in March. The banking system remained sound with limited deposit outflows. It was initially supported by emergency loans from the NBU but bank liquidity later exceeded prewar levels..
But due to the war millions of people were forced to leave their homes and become either IDPs in Ukraine or temporary residents of other countries, primarily the EU. Infrastructure, residential and commercial buildings, and entire cities were destroyed by Russian missiles and bombs. This resulted in devastating damages.
As of September 2022, the total amount of documented damage to residential and non-residential real estate, other infrastructure amounted to more than $127 billion (at replacement cost).[1]However, the reconstruction costs will be much higher. As of June, the World Bank estimated the cost of reconstruction and recovery in Ukraine at USD 349 bn.[2] Now, this amount, unfortunately, surged, especially after Russia started bombing energy infrastructure of Ukraine.[3]
According to the IER estimates, real GDP dropped by about 46% yoy in March as many businesses stopped their operation due to the active war as well as high uncertainty.[4]
In April, we estimated that real GDP somewhat improved as the drop decelerated to 39.3% yoy. Economic situation improved in summer after Ukraine liberated some territories and Grain Initiative was launched. As a result, real GDP declined by 36.4% yoy in August. Nevertheless, the situation again worsened after Russian bombed energy infrastructure in October and November. Most businesses were negatively affected and reduced their operation. As a result, the IER estimates that real GDP will decline by 32.5% yoy in 2022.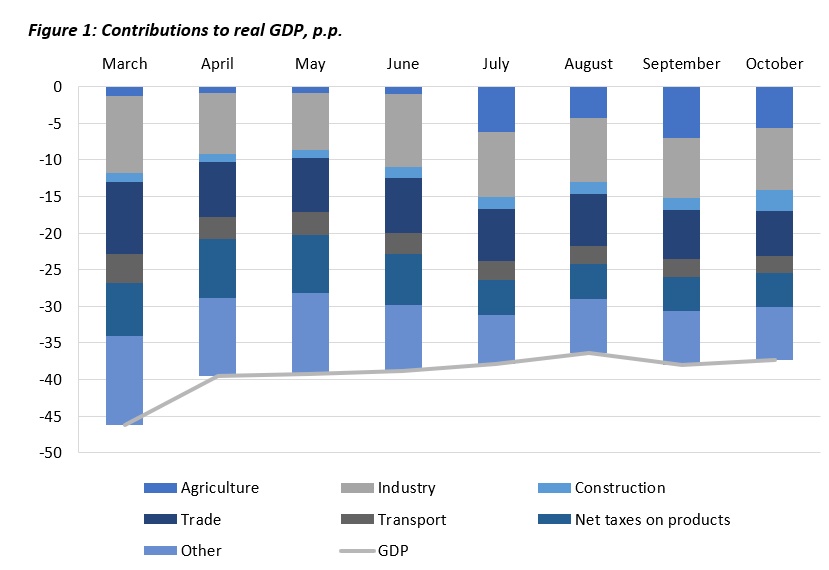 Agriculture has declined due to Russia's temporary occupation of areas in southern Ukraine, which were traditionally agricultural regions. In addition, rising costs and lost income for businesses have reduced the amount of fertilizer and crop protection products used. This was also the cause of later harvest this year and smaller areas under winter crops. The livestock sector also declined due to the war. It faces challenges from power outages and must invest heavily in power generators and fuel for them.
After February, metallurgy suffers not only because of the destruction of two large enterprises in Mariupol, but also from complex and expensive logistics. Since October it also had to adjust to the need to switch to lower electricity consumption. To top it all off, almost all steel mills had emergency shutdowns in late November, after which reconstruction is difficult and costly. Rebuilding the sector after the war will be a real challenge, but its production is important for the reconstruction of Ukraine.
War also results in higher inflation. In October, consumer goods price inflation reached 26.6% yoy due to higher food and fuel prices. Higher prices for raw materials were named by enterprises in the IER survey among the biggest obstacles to development both in September and October. At the same time, the Government kept housing and utility tariffs for the population unchanged to restrict the increase in poverty.
Public finances remained challenging throughout the year. Ukraine had to sharply increase military spending, while the drop in economic activities negatively affects fiscal revenues. In April, the IMF verified the fiscal gap of Ukraine at USD 5 bn per month and signaled the readiness of international partners to provide much-needed liquidity. But monthly financing has not reached that level so far.
In total, Ukraine received $28.3 billion of the $37.8 billion committed. The USA was the biggest financial supporter of Ukraine and provided money to Ukraine in the form of grants, which do not hamper Ukraine's debt sustainability in the future. The EU provided EUR 7.4 bn in the framework of the Macro-financial assistance program: these are concessional loans. External financing allowed the Government to pay wages and social payments in time. Tax revenues of the budget covered defense and security spending, which surged by several times and accounts now for half of fiscal spending.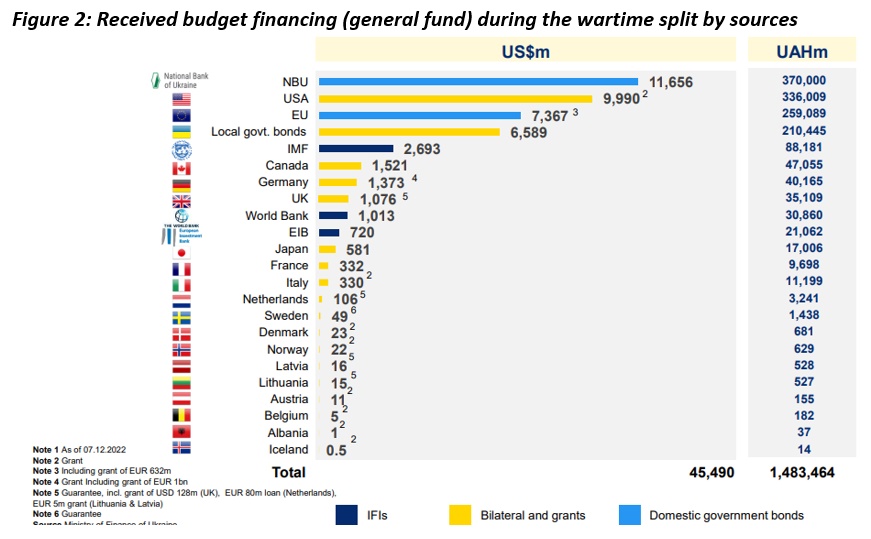 Late and irregular assistance from international partners has resulted in high monetary financing of the fiscal deficit the National Bank of Ukraine (NBU). This hampers macroeconomic sustainability of Ukraine and leads to higher inflation as well as creates pressure on FX market.
The need for international assistance remains a challenge for 2023. In fact, the approved state budget law for 2023 provides for $38 billion in external financing. The EU Commission and the EU Parliament approved a decision to provide €18 billion in MFA to Ukraine.
However, last week the decision was blocked by Hungary in the EU Council. Moreover, there is a hope that this financing will be matched by support from the USA. This financing will help Ukraine to keep going with payment of pensions and wages as well as financing emergency repairs after damages to infrastructure by Russian missiles.
At the same time, there will be a need for additional financing for broader reconstruction and recovery. There were already several conferences organized between donors and Ukrainian Government to discuss the possible structure and coordination of "Marshall plan" for Ukraine, but a clear vision and structured approach are still to be decided.
To start broad recovery and reconstruction Ukraine still needs to win the war first. This really requires further military support of Ukraine by international partners. If the intensity of war increases and damages become larger the fiscal gap will increase and the cost of recovery will become much bigger.